The Science & Technology Hall is the heart of activity at the International Stroke Conference, with its mix of education, events and "intentional networking" areas designed to drive traffic to the exhibits, including: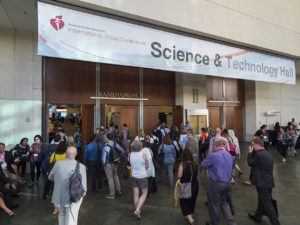 Dedicated exhibit hours give you direct access to more than 4,100 stroke healthcare professionals.
The Expert Theater inside the Science & Technology Hall presents the latest advances in stroke and cardiovascular product and therapeutic treatments, with complimentary snacks and lunches provided by the American Heart Association/American Stroke Association (AHA/ASA).
Official educational programming, including Poster Presentations next to the exhibit hall and Rapid Fire Theaters co-located in the Science & Technology Hall, focuses on the latest in stroke and cerebrovascular medicine and treatment.
An extensive marketing campaign promotes the Science & Technology Hall to attendees before and during the event.
The Simulation Zone features interactive displays with technologically advanced, immersive training for attendees.
Charging lounges allow attendees to power up and get online without leaving the Hall.
Complimentary coffee stations during programming breaks bring attendees to the Hall.
VIP passes (distributed by you) encourage your customers to visit the Science & Technology Hall.
Complimentary lunches for attendees in Expert Theaters in the Science & Technology Hall.
Contact Your Account Manager Today: