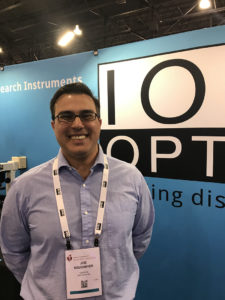 Not sure what to expect at AHA Scientific Sessions? Read from current exhibitors who have realized the value in bringing their brand to the Science & Technology Hall.
Joe Soughayer, IonOptix
AHA exhibiting company since 1996
What do you most look forward to about exhibiting at AHA Scientific Sessions?
Interacting with our customers. As a small company, we don't have representatives near enough to the majority of our customers to visit as much as we'd like. Meetings like AHA's Scientific Sessions provide us with a rare but invaluable opportunity to be face-to-face with them.
What do you find most valuable about exhibiting at AHA Scientific Sessions?
The main reason to exhibit is to present our latest and greatest technology to people and get them excited about what we're doing. It's also an important opportunity to get feedback from them, which helps us to improve existing products and inspire future projects. Listening to our customers (and future customers) is what drives us forward.
Contact Your Account Manager Today: