Exhibitors at ISC 2020 receive a generous assortment of complimentary marketing resources to ensure they reach the world's most influential stroke, cerebrovascular and brain health experts.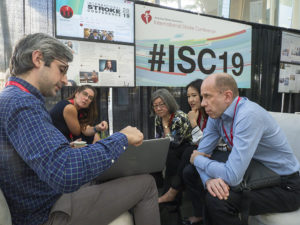 Book your booth today and take advantage of:
Complimentary full professional registrations based on square footage.
Unlimited Exhibit-Only badges for your booth staff.
VIP Customer-Invite Exhibit-Only badges.
Complimentary access to the 2019 final ISC registration list for promotion.
Opportunity to rent pre- or post-2020 registration lists.
Advanced approval and reduced pricing for hosting Satellite Events.
Discounted exhibitor housing rates.
Complimentary online booth at strokeconference.org.
Complimentary booth listing in the AHA Mobile Meeting Guide App.
Contact Your Account Manager Today: