The Science & Technology Hall is the heart of activity at the American Heart Association's Scientific Sessions, with its mix of education, events and "intentional networking" areas designed to drive traffic to the exhibits, including: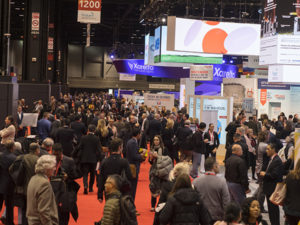 The HEART Hub, which will host both official and industry-supported programming, including a Heart Theater in the Round, the Health Innovation Pavilion, Learning Labs and Game Central, with simulations and jeopardy-style learning activities.
Networking lounges in the Science & Technology Hall:

EP Central
Interventional Central
Early Career and FIT Lounge
FAHA Lounge
Go RedTM Women in Science and Medicine Lounge

Dedicated hours for visiting booths—eight hours focused on exhibits, with limited simultaneous educational programming.
Posters integrated into the Science & Technology Hall.
Complimentary coffee breaks in the Hall.
Cardiovascular Expert Theaters where attendees learn the latest advances in cardiology products and therapeutic treatments, with complimentary snacks and lunches provided by the American Heart Association.
Rapid-Fire Forums, located in each poster area, draw attendees in for original science presentations and interactions with abstract authors.
An extensive marketing campaign promotes the Science & Technology Hall before and during Scientific Sessions.
Contact Your Account Manager Today: