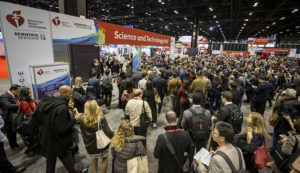 The rich atmosphere for life sciences in Philadelphia and the entire Northeast are proving to be a major attraction for Sessions attendance. As of Monday, August 12, registrations for Sessions 2019 are pacing 25% ahead of the same date last year, with the following top-performing specialties.
General Cardiology: Up 28%
Internal Medicine: Up 96%
Pediatric Cardiology: Up 28%
Heart Failure: Up 25%
Clinical EP: Up 39%
Sessions 2018 total professional attendance in Chicago was more than 12,500.
Contact Your Account Manager Today: